Today we are going to be learning all about a new expression:
"When in Rome, do as the Romans do."
Have you ever heard it?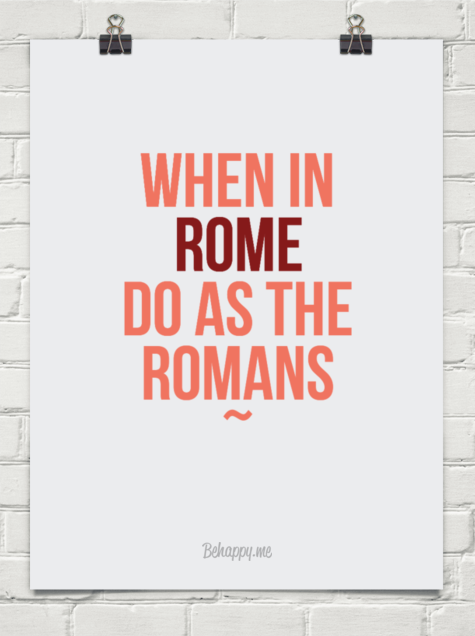 It means that it is polite and respectful to adapt your way of behaving when you are in a different culture or society. This means to cover your body when you go into a church, a mosque or any place of worship. Or it could mean that you should dress well if you are going to meet with well-dressed people, or
Where did this saying come from? Well, the expression was found in a letter from Saint Augustine from 390AD. In that letter, there is a sentence which says: "When I go to Rome, I fast on Saturday, but here [in Milan] I do not. Do you also follow the custom of whatever church you attend, if you do not want to give or receive scandal". 
Basically, we use this expression when we want to recommend to someone that they behave appropriately. Then they will be respectful and respected.
Because it is such a well-known expression, sometimes we can just say "When in Rome" and people will understand.
Examples:
"At work everyone dresses very casually… I used to dress formally, but when in Rome, do as the Romans"
"When I am at home in England I never drink wine at lunch time, but when I was living in Spain, I always had a glass of red wine with lunch. When in Rome…"
"When in Rome, do as the Romans: if all the teachers use the computers during their break time, you can too"
When it comes to learning English, you should just do as the Romans do and make as many mistakes as possible to keep improving. Did you know that in addition to the journal, ABA English also has a full online English course. It is free to sign up to the course and you will have access to 144 video classes which start at beginner level and go all the way to business level. What are you waiting for? Start improving your English with us today.