The Oscar winners were finally announced!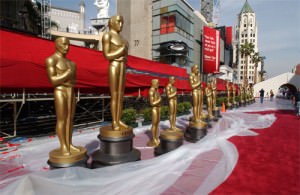 The 2011 Academy Awards were held on February 27, 2011 in Los Angeles, California. Some of the award-winning actors include Natalie Portman, Christian Bale, and Colin Firth. "The King's Speech" took home four Oscars on Sunday night, including Best Picture and Best Actor in a Lead Role
Watch the trailer to the King's Speech with English subtitles and then answer some listening comprehension questions at the end.
[hdplay id=1 ]
1. George has a problem with what part of speech?
2. Who does George see to help him with this problem?
Remember to post your answers in the comments section! Great job!
Did any of your favorite films and actors of the past year win an award?